Today is the first day of school!  Woohoo!
The first day of school is not the time to test new recipes out with your children.  They will be very excited, possibly even too excited (or nervous) to eat!  You want to make lunch familiar to them since they will have all new things going on around them. This lunch box contains all of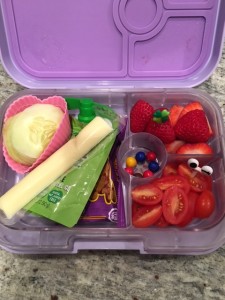 my daughters favorites.
Organic Go Go Squeeze applesauce
Horizon cheese stick
Sliced cucumbers
Annie's cheddar bunnies
Cut up strawberries
Cut up grape tomatoes
Sixlets as a treat for the 1st day of school:)
The cucumbers are in a heart shaped silicone cupcake mold.  It's a cute way to package them together.  The strawberries and grape tomatoes have a lunch pick in them for eating, of course, and for added cuteness;)  I used a winking eye pick in her tomatoes and a 4 leaf clover pick in her strawberries for good luck on her first day of kindergarten.