These mini sandwiches were actually supposed to be roll ups, but since we use whole grain spelt tortillas they don't easily roll up!  They are now called "mini tortilla sandwiches";).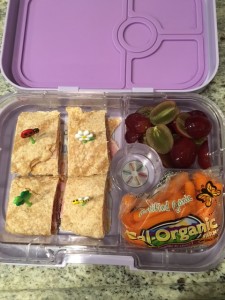 Rudi's whole grain spelt tortillas
Applegate organic uncured ham
Applegate organic meunster cheese
Organic baby carrots
Organic sliced red grapes
I used the garden picks (ladybug, daisy, bumblebee and four leaf clover) to keep the sandwiches together.
The key to giving your child fun and unique lunches is to plan ahead and pack the night before.  There is no way this would get done the morning of.  It's a good idea to do as much as you can the night before including packing lunch, laying out outfits, setting coffee timer, etc.  Anything you can do to save time in the morning, DO IT!  I am a morning person, so I like it to be a slow and relaxing experience in order for you to be able to get breakfast on the table for everyone
and not have to rush your child out the door.  No one likes to be rushed, right?!