Leftovers for lunch today!  It's always an option (a very good option in fact) to give your child dinner leftovers in their lunch box the next day.  It makes things very easy when it comes to packing it up the night before.  Of course, make sure they liked the dinner!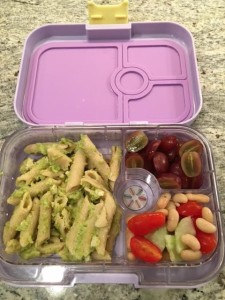 Broccoli and cheddar chicken pasta (see recipe page)
Sliced grapes (still slice in half due to choking risk)
cannellini bean salad from yesterday (another leftover!)
Another option is to put the pasta dish in a thermos in order to keep it warm.  Some lunches our daughter prefers warm and others she will eat at room temperature.  She eats lunch at 11am so depending on what time lunch is a thermos is not always necessary, especially if you warm up the meal before you put it in the YumBox.