This is a favorite!  I enjoy cooking, but even I need a break at times.  T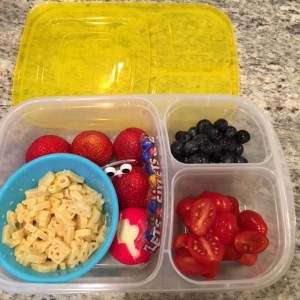 his boxed macaroni and cheese is loved by all in the family.
Annie's macaroni and cheese (Bernie's Farm)
Baby Bell Light
Strawberries
Blueberries
Grape tomatoes cut lengthwise
Sixlets as a treat
I stamped out a heart in the baby bell light with a heart fondant stamp and put an eye pick in the strawberries. These little additions make my daughter smile and they take all of 2 seconds to do.  The mac and cheese is in a large slilicone muffin mold.  I had to use the EasyLunchbox for this lunch due to the muffin mold.