This is my take on pasta primavera.  I don't know what the technical recipe for a primavera is, but in our house it is whatever veggies we have on hand, whole wheat pasta and a very light homemade cheese sauce.  This is a quick, easy and healthy recipe with very little prep work.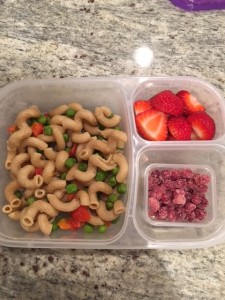 Pasta primavera (Look in recipes section)
Cascadian Farms frozen pomegranate kernels (in an EasyLunchbox mini container)
Cut up strawberries
By the time lunch comes around the pomegranate kernels are defrosted. Don't forget the cocktail spoon in order to eat the pomegranates!  They can get a bit messy once defrosted.