Who doesn't like pizza?  These pizza bagels are Annie's brand for a quick option, but pizza bagels are very easy to make yourself.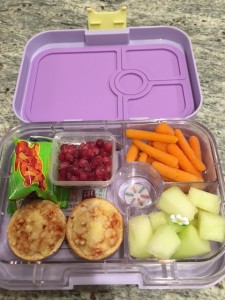 Annie's organic cheese pizza bagels
Baby carrots
Cubed honeydew (added a flower pick for easier eating)
Frozen pomegranates
Annie's fruit snacks (my daughter asked for dessert this day;))
Since this post, I started to make my own pizza bagels.  I use a sprouted barley bagel and put tomato sauce and shredded cheese on top.  I have to make this the morning of in order for the bagel not to get soggy.  It takes 30 seconds, so it is not a big deal.  You can also add some more protein with shredded chicken or a slice of ham.  Delish!